Registration for In-person Day Camp is now closed because we have reached capacity but Online Day Camp is still open.

July 12-16, 9:30am-12:00pm
Children ages 5 (by Aug. 31)- 4th grade are invited to embark on an epic quest through hidden ruins, ancient caves, and dense jungles! At "Treasured" Day Camp, kids dig into action-packed, faith-filled adventures. They'll discover God's greatest treasure isn't diamonds, gems, or gold–it's them!


Registration will be open from May 16- June 30.
Due to current restrictions, we are capping the amount of kids this year. In order to ensure your spot, register on May 16. We will have a wait list so if Pierce County is in Phase 3 or 4 we can accommodate more children.

In-person Day Camp: $30 per child (scholarships available)
Online Day Camp: $15, includes livestreams of group times, craft kits, and other fun surprises.
Volunteers are needed for crew leaders, station leaders, student-leaders, decorations, technology/photography, CD/T-shirt sales and the prayer team. Learn about and register for volunteer opportunities for youth in Grade 5 - adults.
PLEASE NOTE: We are closely monitoring the recommendations of the health department and will continue to update our policies in accordance with their guidelines.
All children and volunteers will be temperature checked daily upon arrival.
Participant drop-off and pick-up will be outside so that parents are not entering the building.
Everyone will be required to wear a face mask.
We have eliminated our snack time and shortened the length of the day by 30 minutes.
Children will be assigned to a crew that consists of one adult leader and three children. If Pierce County is in Phase 3 or 4 by the time Day Camp starts we will be able to increase crew sizes to 2 leaders and 6 kids.
Everyone will be spread out in the sanctuary for opening and closing worship.
Crews will have a home base table for the week and station leaders for Bible, Craft and KidVid will visit crews at their location rather than crews moving from one room to another. The games station will be held outside.
Music and T-shirts
You can learn the Treasured worship songs before coming to Day Camp! There's two music options- Sing & Play Rock Music CD or Download Cards. The Download Card is a code-activated card that makes it possible to load all 10 Treasured songs onto an electronic audio device. CDs or Download Cards are $5 each and can be purchased through the registration link or during Day Camp week. You will be able to pick up your music from the Youth and Children's office starting in June.

You can order t-shirts for $5 in the participant registration. These shirts will be able to be picked up on the first day of Day Camp. A limited number of shirts will be available for purchase during Day Camp week. You can make arrangements to pick up your music from the Youth and Children's office starting in June or you can pick it up on the first day of camp.
We love kids at UPPC! It's not just something we say, it's what we do. It's in our DNA. Our church started as a Sunday School, and today we still value teaching kids about Jesus' AMAZING love for them. Stop by on a Sunday morning or Wednesday night and see the love in action.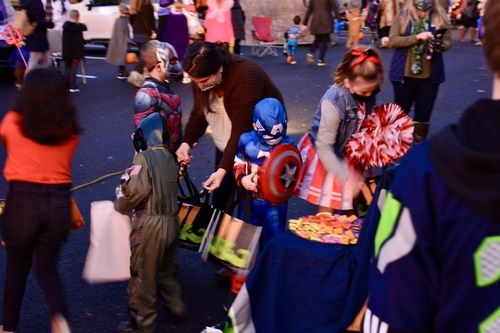 Sundays 9:30 & 11am | The Lodge
Every Sunday morning children will participate in a fun Bible lesson, sing worship songs, and engage in other fun activities. It's our goal to make learning about Jesus an exciting and interactive experience. This year we are using a curriculum based on The Jesus Storybook Bible. If you are worshiping from home, children can follow along with our Sunday School lessons using our year-long schedule.
Please contact Julie Mangrum at
[email protected]
if you would like a copy of The Jesus Storybook Bible!
Early Childhood (4mo-K) is available at both services: 4mo-3yrs is in the Nursery, 4yrs-K meets in The Lodge
Wednesdays 6:30-7:30 PM | The Lodge
Campfire is our mid-week program where students in grades 1-4 learn about Jesus, play crazy games and create cool art. We are doing drive by drop off and pick up so parents don't need to park and leave their cars. We will have students hand sanitize and get their temp checked when they arrive. Have your children wear a mask and bring a labeled water bottle. We will be playing on the UPPC playground when it is dry so please dress accordingly!
Family Sacrament Experience
May 16, 2021 11:00am – 12:00pm
May 23, 2021 11:00am – 12:00pm
In this workshop, children and their parents will explore the meaning and traditions of baptism and communion and they will be given the opportunity to participate in the sacraments at the end of the workshop. (This class is geared toward children in grades 1-4.)
Location: Fellowship Hall or online on Zoom

Special Needs Parent Support Group
Parent Support Group for those with children of any age living with special needs, different abilities, or sensory issues. Join us for a time of sharing and support. We meet on the 1st Sunday of each month from 12:15-1:15. We're moving April's Parent Support Group to March 28 since April 4 is Easter.

We will send you the link for our Zoom meeting a few days before we meet.
More UPPC Kids Ministries
Mom & Dad's Day Out Co-Op
Sunset Christian Preschool (SCP)
SCP is a ministry of University Place Presbyterian Church drawing families from University Place and Tacoma neighborhoods.

We provide children a foundation of Christian faith alongside an educational experience that develops the whole child - spiritual, social, emotional, intellectual, and physical. We inspire a life-long love of learning through the development of each child's unique gifts and talents.
Adults Make a Difference!
We believe strongly in the involvement of the whole church in our children's & youth ministries. UPPC loves kids! If you are interested in getting involved we have a number of ways to impact the lives of students in our community as a prayer partner, mentor, or volunteer in our programming. Click the link below!
"Our eldest son, Jack looks forward to Sunday School and Campfire every week. He retains the lessons he hears and will often bring up different points or even share his knowledge with his younger brother. Best of all, Jack asked to be baptized this past year. When I asked why he wanted to be baptized, Jack said that he wanted to show God he was dedicated to him. I believe it takes a village to raise children and a whole church to raise them in faith. I'm so thankful for all the children's ministry team members who are guiding children, like Jack, into their own faith."